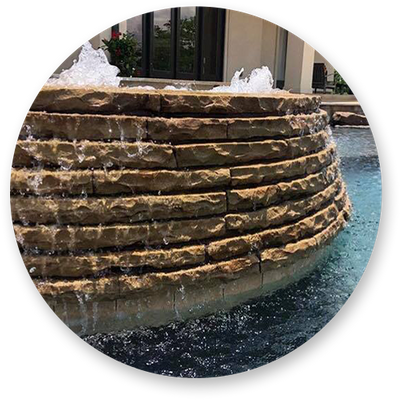 Water features are one of the hottest trends in current pool design. They add movement and tranquility to backyard ambiance as well as beauty. Express Pool Plastering will work with you to add the water feature of your dreams to match your pool, home and backyard design.
A water feature can be added to any existing swimming pool at any time. We have more than 20 years of experience transforming pools and outdoor spaces.
Consider adding a water feature when remodeling your swimming pool – adding a water feature will bring your pool to life. Enjoy the soothing sound and shimmering sight of falling water with a water feature. There's no better sound than falling water to bring relaxation, calm and peace to your life.
From sleek and contemporary to natural-looking stone, we can design and build you the feature you desire. We can offer you a simple sheer descent or an elaborate tropical waterfall.
Ask Express Pool Plastering about our attractive water features – they come in all shape, sizes and designs.