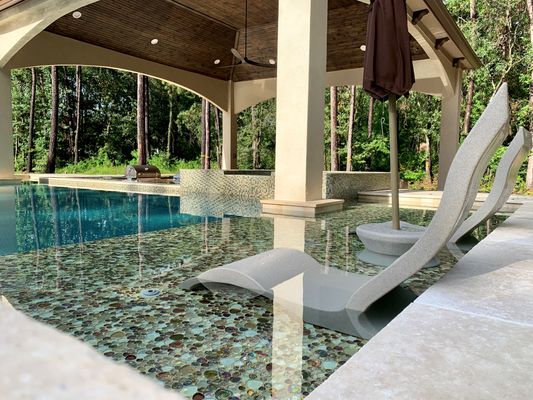 Have you always dreamt of transforming your simple pool finish with tile? We don't just plaster pools; Express Pool Plastering can create your dream pool with tile.
Swimming pool tiles aren't just functional; they can create a custom look that will turn an ordinary pool into an extraordinary one – the crowning jewel of your backyard. We can offer you an almost limitless selection to choose from. In any pattern, color, and shape, from glass to ceramic, to porcelain; we can design an overall pattern with the materials that are uniquely you. Today's pool-appropriate tiles are also very durable and easy to clean, especially at the water line. They're also soft and cool to the touch, making for a more enjoyable and beautiful swimming experience.
Our Favorite Tile Distributors
Visit our showroom to choose the materials that suit your design and style. Our friendly staff is ready to assist in coordinating the perfect selections to compliment your swimming pool. We offer an endless array of color combinations from the following distributors:
Why Choose Tile for your Pool?
Tile Trends: While glass pool tiles are the hottest trend, they are also some of the most durable tiles available and classic enough to endure changes in style trends. Although beautiful, they're also tough enough to withstand the elements and harsh chemicals. No matter your design aesthetic, we have the perfect tile for you.
Tile Replacement and Repair: Are you experiencing tile issues, or have they become loose or dull due to calcium deposits? Express Pool Plastering can help you with your tile replacement, repair, or cleaning.